Weekly markets insight report
April 16th 2018
Equities:
General Electric Co. shares booked a gain of 3.3% last week, however, it is still the worst-performing Dow Jones Industrial average stock for the year to date. Even with the weekly gain, shares are down 22.7% YTD in 2018.
The week did not start well for GE after JPMorgan said that GE is the most expensive stock in its sector of the market. The implication, of course, is that the share price must fall even further.
There was a quick, second punch in that the company's dividend will have to be cut slightly, slashed or even eliminated. JPMorgan do not believe that GE's 2018 earnings per share forecast of $1.00 to $1.07 has a chance of becoming reality. A more realistic estimate, they say, is $0.50 a share.
The second-worst Dow stock so far this year is Procter & Gamble Co., which is down 14.7%. That is followed by Walmart Inc., down 12.9%, Verizon Communications Inc., down 10%, and Home Depot Inc., down 8.8%.
For equities in general one should note that risk trends over the past weeks have been progressing towards a bullish recovery. That may be the technical view, however, it really feels half-hearted. 
We say this as the market is torn between pure market and economic signals and the rise of unchartable political risks that have raised volatility.
The chart shows that the broad-based S&P has been caught in a corrective channel since February when a scare of average earnings unsettled the US indeed global equity markets
Since then, there have sessions of seemingly steady recovery and yet the transition of a short-term technical breakout into a meaningful follow through requires conviction.
We are, sadly, not currently in such a phase as fundamentals are keeping the market from establishing a more productive drive be it higher or lower.
The continuously unfolding trade war between the US and China, threats of military action by the US and Russia, and persistent political scandal have made investors uneasy about the future.
All one can reasonably expect, given the range of possible outcomes is for volatility without no sense of course setting to prove itself to be a persistent problem.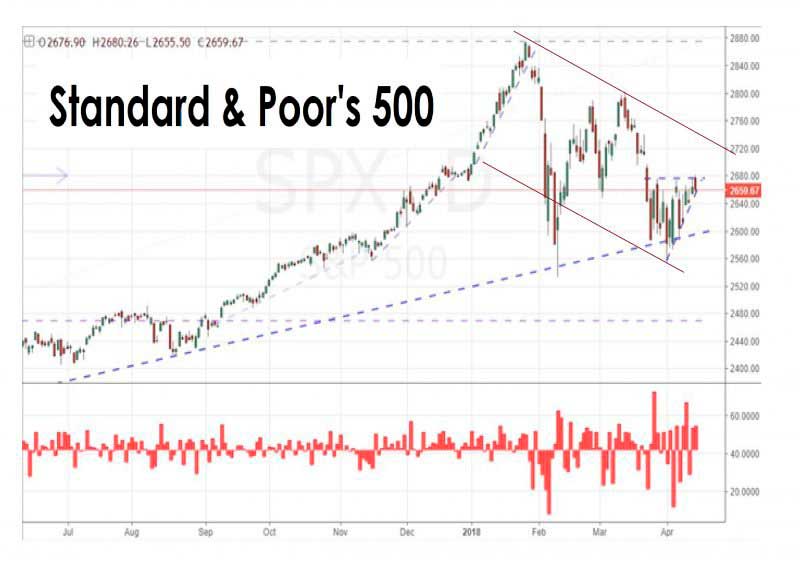 Read more Market Analysis